Program Highlight: Breast Cancer Nutrition Series
Do you or someone you know have breast cancer? Every Tuesday from February 5 through February 26, we will be holding a special 4-class workshop designed for people with breast cancer and their families. Learn more...
Program Highlight: Our Meals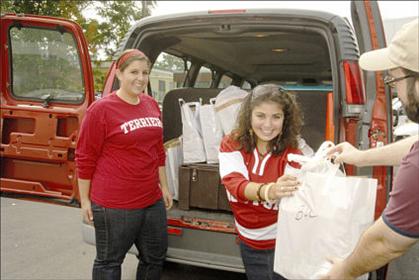 Our meals program improves our clients' quality of life, health, and ability to perform daily activities. Along with lunch, dinner and a snack, we deliver a message reminding our sick neighbors that they are not alone in their struggle with life-threatening illness.
---
Recipes
Sweet Potato Pie
Similar to pumpkin pie, but not quite as sweet. Serve with whipped cream, if you like.
Demographics
Clients by Community (Percentage)
Healthy Eating Tips
Concerned about your cholesterol? Watch out for saturated fat! Saturated fat is commonly found in animal products. Choose lean meats and low fat dairy. Read food labels, and try to buy and eat foods with less than 2 grams saturated fat per serving.
Watching your waistline? Be mindful of what your body tells you - eat when you're hungry and stop when you're full! And when you're done, get up and move around!
---